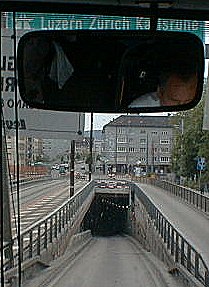 After a good night's sleep, we are one of the first to go down for breakfast. There is a very good choice of cereals and fruit, bread, cooked meats, cheese and even hot food in the form of scrambled egg and some meatballs.
Christine waits in the lobby while I return to the room and collect the luggage. It is easiest to bring one suitcase down at a time.
Before long we are on our way down through Belgium and over the border into Luxembourg. We stop at the services. The drivers tell us that this is the cheapest place to buy tobacco on the trip. Although we are non-smokers, our son Ian rolls his own cigarettes and we've promised to bring him back some Golden Virginia. Here it costs less than a quarter of the price it does back home.
We leave Luxembourg and join the French motorway system. The scenery is rural but with only the occasional glimpses of village churches and distant woodland. The drivers take the opportunity to tell us details of the holiday itinerary, in particular the optional excursions. They do not exert any pressure on us to partake in these, but they do require that we make a decision as to which options we want to take up. We do not really get enough information though to be sure which options are most suitable.
A couple more hours sees us out of the countryside and into Strasbourg, with interesting views of railway marshalling yards and old churches. Beyond the city we stop briefly at a small service station. Time to stretch our legs and use the toilets, before climbing back aboard the coach.
Before too long, we arrive in Switzerland. Basel is grey and sombre. A lot of building work is going on here, including the construction of more tunnels to take traffic under, rather than through, the city. We cross the Rhine and then dive under a tunnel to come out at a large service area, Autogrill Pratteln, which straddles the motorway.
Here we have a slightly longer stop. I go over to the other side to change some sterling into Swiss Francs. The service area is packed with people thronging the various shops. I purchase two bananas and two apples from a stall and then we go for some lunch in the self-service restaurant. Two glasses of apple-juice plus one Schnitzel and french-fries costs an amazing twelve pounds. It is large enough and tasty enough to split in half and satisfies both our hungers.
Now that we have reached Switzerland, the scenery improves dramatically. This is the land of high mountains, broad lakes and long tunnels. The road skirts Lake Lucerne. Houses clutter the shoreline, gradually thinning out higher up the hillsides and giving way to more trees. Above these are bare rocks with snow lying on the highest peaks.
The longest tunnel is the Gotthard Strassentunnel Until a longer tunnel opened recently in Norway, the Gotthard Tunnel at 16.9km, was the longest road-tunnel in Europe. Several other tunnels we pass through on this holiday are well over 5km long.
A tragic accident had closed the tunnel in November 2001. Up to a week ago, traffic was only being allowed through in convoys, one way at a time, leading to huge delays. Now, however, it is again open to two-way traffic. We leave the tunnel and stop at the St Gotthard South services. Below is the pretty village of Airolo and above are snow-capped mountains.
It is now only an hour or so down to Lake Lugano. There is a thunderstorm as we approach Lugano and it is still raining as the coach pulls up in front of the Calipso Hotel, Paradiso. where we are to stay for three nights.
Our room is on the first floor and not too far from the old but serviceable lift. The room itself is fairly basic, but we are able to order extra pillows. There is a good-sized bathroom with a shower inside the bath, but I cannot figure out how to turn it on.
We have about an hour to relax and unwind before going down to dinner. The dining room staff are mainly from Croatia and have only a little knowledge of English, or indeed Italian or German. Nonetheless they are friendly and as there is no choice of menu, it works out just fine. At reception, we were given a wad of notes with our room number on; to order drinks, either with our meal, or at the bar later, we just hand over a note. No cash exchanges hands and we settle up our bar-bill on departure. It is a simple three course meal; soup, a main course which is very tasty and wholesome, with seconds offered, and a somewhat unexciting dessert.
After the evening meal, Christine sits in the lounge for a short time, talking with other members of the coach party, before retiring. The rain has eased off, so I take a walk down to the lake shore. It is not far, but is just a little too steep to expect Christine to venture down. Despite the weather, there is a splendid view across the lake, and there is some shelter to be had by the pier entrance.
I inhale the fresh evening air as I walk back to the hotel