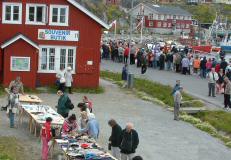 The ship arrives early morning in Qaqortoq, the fifth largest town in Greenland with a population of around three and a half thousand. It was previously known as Julianehåb. After breakfast in the Medina we go up to the Crows Nest for a good look.
It seems a pretty little place with coloured houses radiating from the harbour and up the hillsides. The oil and gas tanks at one end of town are painted to make them less ugly. On another hillside is a huge satellite dish and golfball (similar to the ones that used to be on Fylingdales Moor in North Yorkshire). The water is calm but fog clings to the tops of the hills. Out in the bay three large icebergs are floating slowly southward.
I get off by tender and arrive in Qaqortoq at 12.30. Already there is a queue of people waiting for a return tender to the ship. I walk past the souvenir shop and the row of stalls. The hillside is covered in buttercups. I discover several stone sculptures. I find out later these are part of the Stone & Man Project. They date from 1993 when Greenlandic artist Aka Høegh encouraged Nordic artists to create shapes and reliefs from natural stone formations all around the town.
I climb up and take a look in the Gertrud Rasch's Kirke or New Church. By its side is a huge anchor from which there is a lovely view across the harbour. I also look inside a small supermarket. It is difficult to compare but my impression is that prices are not unreasonable, maybe 20% higher than for similar items in the UK. I work my way down to the river and a duck pond. What road traffic there is seems very pedestrian-aware.
Frelserens Kirke or the Old Church is a beautiful red-painted wooden building. A smaller building nearby is apparently the mortuary. Past the church is the Torvet or Town Square in the middle of which is the only fountain to be found in the whole of Greenland.
Just beyond is the open-air market or Brædtet full of fish and cuts of meat. Two men outside are busily carving up a couple of musk-ox, watched by local children and askance tourists.
From one of the stalls I get a couple of T-shirts for DKr200 and six postcards for US$10. They will happily take Danish krøner, US dollars, Sterling or Euros. The 100% cotton T-shirts have an outline of Greenland with the town name and position shown and so are useful reminders — one is for me and the other a present for my son Craig. At just under a tenner each the price is little more than I'd pay back home. The postcards are larger than normal size with a map of Greenland. Five I'll post and one I'll keep. It is also good to have found a use for the few dollars I've had around for ages. In the souvenir shop itself I spend Dkr40 on a fridge magnet in the shape of a walrus. Later I look at it and find one of the legs is broken, but I take it back and they exchange it.
There is still a long queue of people waiting for the returning tenders. However a woman in traditional Innuit costume shows up. She greets the crowd and introduces us to the local choir who I think are called Erinar Soqatigiivi. They give us an impromptu concert which goes down very well. Most of the songs are based on folktales which the leader recounts in detail and with much humour. The choir sounds something like a cross between a barber-shop quartet and a Welsh Male Voice Choir. I buy a copy of their CD Tuppalleri Tarneq for Dkr100. Published by AtlanticMusic the CD seems to be mainly of church music. Certainly one of the tracks is a Greenlandic version of Silent Night.
The queue at the harbour is still long, so I wander past and watch a girl in a kayak paddling around a small iceberg. Further on is the boat yard. A variety of old boats have been hauled up on railway track awaiting repair. Most are fishing boats but there is also an old ferry undergoing a refit.
I have taken as many as 27 photographs.
By the time I go back the queue has shortened and I get a tender back to the Aurora. I locate Christine in the Orangery. She has spent her time pottering around the ship and has found another place to eat — the Sidewalk Café which is located near the lido and serves pizza, burgers and fish & chips.
This evening, instead of retiring after dinner, we attend a classical concert in the Playhouse. Penelope Smith plays music for solo piano by Rachmaninov and Schubert and with Geoffrey Haydock, music for clarinet and piano by composers including Schumann and Mendelssohn. At the back of the Playhouse — and also the Curzon Theatre — there are spaces for wheelchairs and a number of a seats that are specifically reserved for Companions of Wheelchair Users. Recognition at last!