PICKINGS
Poetry from NHI publications
---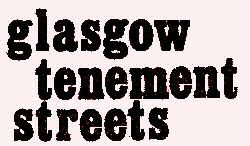 nae tunnels stannin' on their ends are they
no like the skyscrapers interferin' wi' the cloud formations
an' strainin' tae lick the moon
the hooses piled up as if gaspin' for air
but kids canny play stacked on top o' each other.



nae need to go doon tae the subway
a' the streets are tunnels
wi' a great slab o' grey sky for a roof
their big black sides vibratin' an' talkin'
tae other countless holes
an' a hundred closes devour a thousand weans.



admission's free tae these galleries of childrens' art
decorated where the painter left aff
framed in the joints o' grey ashlar stane
an' no even wan o' them for sale
brightness in dull streets midst dulled adult minds.
GEORGE WILLIAMSON