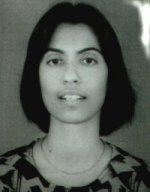 Asha Mohan Ashu is a postgraduate in English Literature from Rajasthan. She has published a number of poems in Indian magazines and a collection COMMUNION.
The Aabye's Baby Archive
Previous Page
Next Page
Poem & Photograph
© Asha Mohan Ashu, 1999
Web design by Gerald England
This page last updated: 12th November 2006.