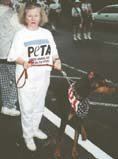 Joan Payne Kincaid lives in Sea Cliff, NY, USA, with her husband, two children, six siamese cats and a Dobie. A former opera-concert singer, she now writes and paints. Her poems have been published internationally in magazines and on the internet including Pickings.
The Aabye's Baby Archive
Previous Page
Next Page
Poem & Photograph
© Joan Payne Kincaid, 1999
Web design by Gerald England
This page last updated: 12th November 2006.