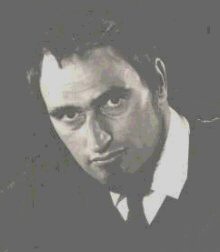 Alan Marshfield has a website at http://www.abraxaspress.co.uk/. He has been published in book form by Anvil and Oasis and in journals including the Times Literary Supplement and The Kenyon Review. He describes himself as a modernist, a stylist, often a mannerist, occasionally a minimalist. To him phrasing should be harmonically and semantically rewarding. He works in realist and surrealist modes. He narrates, he meditates, he does myth, metaphysics and sometimes real people. He publishes translations of poetry from Classical Greek, Latin, Thai, Finnish, French, German and Italian.
The Aabye's Baby Archive
Previous Page
Next Page
Poem & Photograph
© Alan Marshfield, 2000
Web design by Gerald England
This page last updated: 12th November 2006.