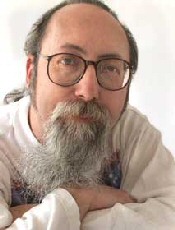 Derek Adams was born in 1957 and lives in Southend, Essex, U.K. Widely published, poems in Magma, Acumen, Smith's Knoll, Rialto. His collection Postcards to Olympus was the winner of the 2004 Open Poetry Monthly Booklet Competition. The latest book is Everyday Objects, Chance Remarks (Littoral Press 2005). Read reviews at NHI Review.
The Aabye's Baby Archive
Previous Page
Next Page
Photograph
© Charlotte Adams, 2005
Poem
© Derek Adams, 2000
Web design by Gerald England
This page last updated: 22nd September 2008.