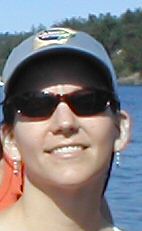 Eliza Gibbons is a freelance translator and writer living in Denver, CO. She spent six years in Rio de Janeiro, Brazil, working in the finance area of a multinational company. She is fluent in Portuguese and Spanish. This poem first appeared under her maiden name Eliza Bonner.
The Aabye's Baby Archive
Previous Page
Next Page
Photograph
© Eliza Bonner, 2006
Poem
© Eliza Bonner, 2000
Web design by Gerald England
This page last updated: 12th November 2006.