Welcome to Zimmer-zine
The e-zine for all those who are not dead yet!
---
OLD BETHEL CHURCH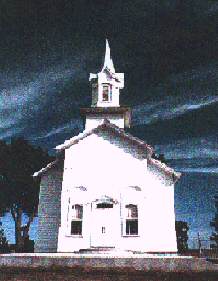 Old Bethel Church
lived to see its congregation
pass away. Some passed out
into the churchyard, some just
pass by looking for other places.

No matter. It has stood alone
on the hill - faithfully, patiently
forty years now without a sign
of rot or decay. Willing, no doubt,
to wait another forty or more
if need be.

No matter.
The Church immortal
still commands the bluff.
DAVID A BISHOP
---
This poem is from a collection "Out Doors" published
by "Rural Image", POB 713, Atlanta IL 61723 USA.

Text and photograph © David A Bishop
email the author
read another poem by the author on the Aabye's Baby Archive

---
|| Previous page || Next page || Contents page ||
---
Web design by Gerald England
This page last updated: 13th November 2006.