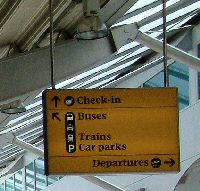 Following our extremely enjoyable 2005 cruise we decide to take a new P&O cruise in 2006. As most of the stops in 2005 were at tender ports, Christine, confined to her wheelchair, was only able to enjoy a small time ashore. Other passengers on that cruise recommended we go on a Baltic cruise as most of the ports there are fairly accessible.
Discussing our plans with Accessible Travel and Leisure aka Cotswold Cruise Club, we learn that accessible excursions are possible in St. Petersburg. An email to P&O later confirms this. We are already familiar with the layout of the Aurora and this time choose an outside cabin.
We'd flown down to Southampton before but the times of the flights have changed. The Saturday return flight is too early for us to catch and the Sunday return flight is not until late afternoon. Checking the railway timetable we find there is a direct train from Southampton to Stockport about 1.15pm on the day we return. We decide that the easiest option is to catch a Friday afternoon train down to Southampton and stay overnight ready to board the next day.
We select an overnight hotel and book it. Some of the ones we consider are already full.
One cannot book rail tickets more than three months in advance. When I come to contact Virgin Rail about booking, I'm first informed that they can't confirm the return train and suggest ringing again a few days later. When I do, I'm told that the selected train only has one wheelchair space on it and it is already booked. I'm offered a journey that involves changing trains twice!
We conclude that we'll be better off flying down after all. I book the flights online with British Airways. I phone their Mobility Centre who already have our flight details. We give them information about the wheelchair and they arrange for all the help we will need for boarding the aircraft to be on hand. It actually costs less to fly than go by rail, even though our Disabled Rail Card gives us a third off rail fares.
I phone the overnight hotel and move our booking from the 9th to the 24th June.
A month before we are due to depart I telephone Airport Carz only to find that they no longer accommodate electric wheelchairs! Fortunately we get to hear about Roland Travel of Dukinfield and book the transfer with them.
Roland arrives just before 7am and takes us down to Manchester Airport. We check in and move on to the departure lounge. Although due to leave at 8.45, it is after nine before we are loaded on to the plane. Christine releases her wheelchair for storage in the hold and two burly men carry her on to the plane.
We fly over Jodrell Bank Telescope. In-flight meals are no longer included in the fare and though £10 seems a bit much for two airline breakfasts, we have them anyway and they are very tasty. Around 10.30 we arrive at Southampton Airport
We are the last to leave the plane. Christine is reunited with her chair and we make our way through Arrivals. The taxi desk informs us that they don't accommodate wheelchairs. They promise to ring other companies to find us one. Christine visits W H Smiths to buy me some batteries for my camera and a book for herself. The taxi people tell us that none of the three firms they've rung can supply a taxi and they are ringing a fourth. This time they locate someone with a suitable vehicle but it will be 12.30 before they arrive. It is a good job we are not in a hurry!
Rob's Taxi arrives as promised and whisks us down to the Mayflower Cruise Terminal. We are not kept waiting long and are soon aboard. Our cases are already in the cabin. There is a lovely picture window with a view across the river to a dome and a chimney which belong to the waste incinerator at Marchwood. The room is spacious and most of the wardrobe rails are low and easy to use.
After the safety drill we go out on to the promenade deck. The Chichester City Band are playing for us on the quayside. We are provided with Union Flags which we wave. Shortly after 5pm the ship pulls away and heads down the Solent towards the Isle of Wight and the English Channel.
Our evening meal is taken in the Medina Restaurant. As last year we are on the early sitting which suits us well. We share our table with some newbie cruisers, a couple from Prestwich only a few miles from us and a couple from Hampshire. Making up the eight are two women from Nottinghamshire. I'm not sure if they are mother and daughter or just friends who met through work. They've certainly been on several previous cruises together. The Hampshire lady is also in a wheelchair, but a manual lightweight folding one so she is able to access some of the excursions unavailable to Christine.
After dinner we go for a stroll around the ship. Christine buys a lovely sunhat for £7.99. It proves to be a useful purchase as the sun shines for the majority of the cruise. We visit the Tours Office and find that, in addition to ones in St. Petersburg, wheelchair-accessible excursions are also available in Copenhagen and Helsinki. We get our names put down for them.