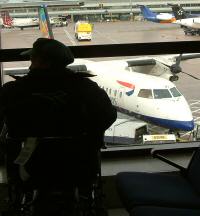 Since Christine purchased her electric wheelchair in November 2004, 2005 is going to be the year of "Have Wheels Will Travel".
We start thinking about the idea of cruising in February 2005. As we've already booked a holiday in Llandudno for just after Easter and plan to visit Scotland in September, July seems the ideal time for a cruise.
We discover the website of Accessible Travel and Leisure. A few days later we are called by Anne Calloway who tells us there are still a couple of wheel-chair accessible cabins available for a P&O cruise on the Aurora. We book it and arrange insurance.
The next consideration is how to get to Southampton. National Express Coaches don't accommodate wheelchairs so road is a no-no. Rail is a possibility but we decide the simplest option is to fly from Manchester. Flybe is cheapest, but a call to their inquiry desk leaves us with the impression they aren't really interested in carrying a heavy wheelchair. We elect to fly with British Airways . I book the tickets online about two months before we are due to travel. Half an hour after booking I phone their Mobility Centre. They already have our flight details. We give them information about the wheelchair and they arrange for all the help we will need for boarding the aircraft to be on hand.
A month before we are due to depart I search for accessible taxis to get us to and from the airports. Airport Carz operate both in Manchester and Southampton. The Manchester office takes our booking over the phone and payment for both journeys by credit card. The price, compared to local taxis is extremely competitive. The Southampton office takes details, quotes a price, but payment is to be paid locally to the driver on the day.
On the fourth of July we are up early. The taxi comes just before its due time, a smart vehicle with proper ramps for wheelchair access. Though the motorway is busy we are at the airport within half an hour.
[update note: June 2006 — it seems Airport Carz in Manchester no longer accommodate electric wheelchairs]
We check in and proceed to the departure lounge. In due course we are escorted to the plane. Christine is helped on board with an "ambulift" and her chair put in the hold.
Breakfast on board consists of orange juice, bacon, scrambled egg, sausage, a slice of tomato, two wee hash browns and a small bread roll. Due to expected turbulence no tea or coffee is served but water is available. For most of the one hour flight we are in cloud. Approaching Southampton it clears. The plane flies around the city and then follows the river back up to the airport.
We are last off the plane but soon in the terminal and arrange our taxi to the Cruise Terminal. Again we have a proper accessible vehicle and a friendly driver for the transfer. On arrival, one of an army of waiting porters takes our suitcases from the taxi. We won't see them again until we reach our cabin. We are shown into the departure lounge. The ship looks huge. Just the bow overshadows the lounge. Beyond is a factory on the other side of the river. Various boats ply up and down.
We get aboard around 2.45pm. Our cabin is spacious with a large bed, two easy chairs, good-sized wardrobes and a very nice bathroom. There is ample space to park the wheelchair and get around it. After a while we go up to the Orangery for afternoon tea. This self-service cafeteria is where we'll be spending a lot of time over the next couple of weeks.
Following the safety drill we go on to the deckside as the ship sails down the Solent past the Fawley Oil Refinery and on towards the Isle of Wight.
There are two sittings for dinner, 6pm and 8pm, as well as two restaurants. We've been allocated the first sitting in the Medina Restaurant. Dinner is the only meal where the time and place are rigidly fixed. At other times there is a choice of where and when you can eat. We share our table with a couple of seasoned cruisers from Glasgow, a couple from Somerset and a Welsh couple who now live in Bristol. None of them like to drink wine with their meal so we are in good company.
We tumble into our beds quite early, but wake in the middle of the night. There are tea/coffee making facilities in our cabin and a supply of biscuits including ginger-nuts. These are just right for dunking in a midnight cup of tea.