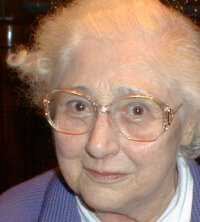 Mabel Ferrett lives in Heckmondwike, UK, where she hosts Pennine Poets and is senior partner in the Fighting Cock Press. As well as books of poetry she has written extensively about the Brontės, especially their connections with Hartshead and the Spen Valley, and is in demand as a speaker. There are reviews of her books on NHI Review. Other work by the author can be viewed on Pickings (1) and Pickings (2).
The Aabye's Baby Archive
Previous Page
Next Page
Poem
© Mabel Ferrett, 2000
Photograph
© Gerald England, 2000
Web design by Gerald England
This page last updated: 12th November 2006.